/

The employment of disabled people in disability support services – including case studies and forum report
The employment of disabled people in disability support services – including case studies and forum report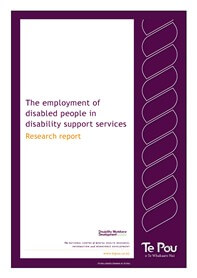 It has long been known that people with disabilities do not fare as well in the employment market as their able-bodied peers. Disabled people are more likely to be unemployed, or employed in poorer paid or low status jobs than their able-bodied counterparts.
The need to increase the number of disabled people working in DSS is a priority in the Ministry of Health DSS Workforce Action Plan. Te Pou undertook a project to develop a better understanding of motivations, barriers, enablers, supports and retention in relation to disabled employees in DSS.
The report makes recommendations to support increasing the number of disabled people employed within disability support services (DSS). The report also includes updates on some of the recommendations, in the form of case studies and a forum report.
Sharing successes
For examples of good practice of employing disabled people within DSS, read these stories from Laura Fergusson Trust Canterbury and Independent Living Solutions, which you can also find in the report.