Six Core Strategies for reducing seclusion and restraint checklist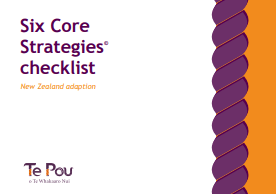 The Six Core Strategies checklist: A proven way to reduce seclusion and restraint events
The Six Core Strategies©, on which this checklist is based, were developed in the United States of America by the National Association of State Mental Health Program Directors Medical Directors Council (NASMHPD). This was in response to the release of several influential reports and more especially the growing voices of service users and other stakeholders saying that seclusion and restraint were traumatising, both to people receiving services and to staff.  
The strategies were developed after collecting and analysing all seclusion and restraint literature and research available at the time, including anything on violence in inpatient settings, staff development strategies, risk assessments, service user and staff stories about seclusion and restraint, and media publications. Also at this time, leaders and managers who were known to have made progress in reducing seclusion and restraint were brought together for a series of think tank meetings. From these, critical elements of success were identified and were narrowed down to the Six Core Strategies©.
Following this, a training programme was developed for the Six Core Strategies© and trainings were held in selected pilot sites.  The outcomes were evaluated and it was found that significant reductions in seclusion and restraint were found in all facilities, even though they had different specialties, levels of security, ownership, and size.
To support the utilisation and effectiveness of the Six Core Strategies© a checklist was created. This checklist has been reviewed and adapted for the New Zealand environment.
Story of good practice
Tairawhiti District Health Board (DHB) have seen a dramatic reduction in seclusion and restraint events with Maori and all people using services. Read more about their journey here.