Promoting training uptake and completion in home and community support services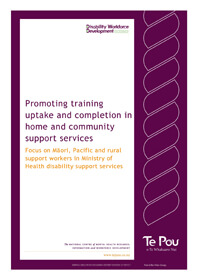 An overarching objective of the Ministry of Health's (MoH) Disability Support Services Two Year Work Plan 2011-2013 is improving the accessibility and sustainability of training for workers in the disability sector.
This project aimed to develop a better understanding of barriers and enablers to effective workforce training for home and community support workers in small MoH funded home and community support services. A key focus was on identifying factors supporting the successful uptake and completion of the National Certificates in Health, Disability and Aged Support level 2 (Foundation Skills) and level 3 (Core Competencies) qualifications for Maori, Pacific and rural workers.
Providers who participated in the research were selected based on the following criteria:
those who had accessed the training grant scheme administered by Disability Workforce Development within Te Pou
represented diversity in location (focus on rural and provincial)
Maori and Pacific providers
agency size
covering all national regions.
Due to practical constraints, ten home and community support services supporting fewer than 1,500 disabled people funded under a MoH disability support services contract were identified and their training staff personnel interviewed.
Downloads
Promoting training uptake and completion in home and community support services
Published 24 April 2013
Download

pdf

(621.33 KB)