Music to Metaphor: A unison of oars – Takanga a Fohe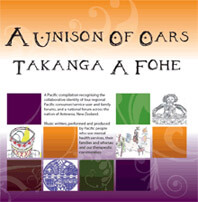 Music to Metaphor is service users documenting their experiences of mental unwellness and having their journey transformed into music and song.
Le Va is committed to inspiring people who experience mental illness, and their families, to recover well and have a sense of hope. It is well known that music, song and dance play a significant role in all Pacific Island communities because they are our creative expression of our culture, language and history.
A unison of oars: Takanga a Fohe
The 'Music to Metaphor' music CD titled A unison of oars: Takanga a Fohe was officially launched at the Inaugural National Pacific Consumer and Family Recovery Conference in May 2009.
The words for each of the regional songs were written by the four regions themselves. They were then arranged and put to music CD by Papali'i Johnny Siaosi as producer and instrumentalist for all the tracks. 
Download the songs in WMA format below:
Track 1 – Embrace all people (WMA, 2.2MB)
Track 2 – Take me as I am (WMA, 3.1MB)
Track 3 – Together as one (WMA, 3.2MB)
Track 4 – To believe in ourselves (WMA, 1.9MB)
Track 5 – We are family (WMA, 1.9MB)
Track 6 – Reciprocity (WMA, 2.7MB)
You can also download the CD insert (PDF, 2MB) for lyrics, acknowledgements and artwork.
Limited copies of the CDs are available by contacting Le Va or Johnny Siaosi.
Oh how my heart is breaking
Le Va supported musician and consumer advisor Papalii Seiuli Johnny Siaosi (Pacific Mental Health and Addiction Services, Waitemata DHB), to produce 'Oh how my heart is breaking' on CD.  Download the song in WMA format below:
Oh how my heart is breaking (WMA, 4.4MB)
The CD was launched at the first Drua fono in Christchurch on Friday, 16 May 2008.
The song features the voice of renowned Pacific R&B artist Lapi Mariner and the lyrics were written by Margaret Anderson.