Emerging youth leadership: Le Tautua 2022
Being a leader is creating space for others to also thrive and be leaders themselves too. It's not an individual journey but a collective one where you collaborate with your team and also empower them.

– Le Tautua participant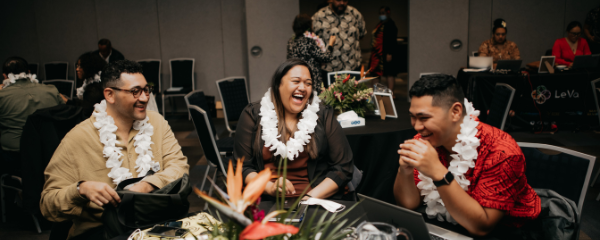 The year 2022 marked 14 years of Le Va's Le Tautua emerging leader programme and the first year the programme focused exclusively of youth leadership and growing emerging youth leaders. We received high interest in this year's programme double the number of applicants from previous years. 26 youth leaders working in youth mental health and addictions, youth work disability, public health, peer support and Pasifika wellbeing, from across Aotearoa New Zealand were invited to attend the two-day programme in Auckland.
Day 1 of Le Tautua Emerging Youth Leadership programme included an opening address from Denise Kingi-Uluave, Le Va CE, and an inspirational Keynote Speech from Arizona Leger who told participants: "The actions you take today, impact the Ancestor you become tomorrow… Be brave, back yourself and go together. Every time you choose to be brave, you are choosing to step into your leadership."
Le Va's Niu Wave ran an interactive workshop on Leadership as Pasifika and challenged participants to identify leaders who inspire them. "We follow leaders who resonate with something inside of us. Recall those leaders, write down how they made you feel, why you followed them and how they inspired you. You will need this, because as your rise up into your leadership roles, you will have moments where you will need to draw back from their words, and remember why you are in the positions you are in."
Our Panel guests: Apollo Taito, Laura Tongalea-Nolan and Pela Hokai shared some rich talanoa about "being confident and owning your space! it's YOUR story, YOUR narrative. It is our Pasifika values that make us unique." And finally, our Le Tautua participants described leadership in their own words as being about sacrifice; love and service with the ability to acknowledge your wrongs, having a purpose and a responsibility to be honest, lead from the back with compassion and integrity. All while embracing failure, listening with empathy, and having commitment to the journey ahead.
Following on form an evening of networking, connection, spoken word poetry, song and dance, Day 2 of Le Tautua Emerging Youth Leadership programme opened with a personal address from Dr Elizabeth Mati who shared the highs and the lows of her personal leadership journey and the importance of our voice and how we communicate. To understand our voices and to be secure within ourselves in order to empower others.
Speakers Josiah Tualamali'i and Benji Timu shared an inspirational tale of youth leadership and how they petitioned the government to apologise for the Dawn Raids and enable education in Aotearoa about them.
Closing speakers Aigagalefili Fepulea'i-Tapua'I reminded participants that leadership is embedded within them, is why they are at Le Tautua and that their ancestors have entered the room and they are not alone even when it feels like it at times. Phylesha Brown Acton taught participants that it is okay to close the door when the noise gets loud to rejuvenate and reflect so that they can come back to their purpose and remember their whys!
Le Tautua for the participants provided a space to look after the self, as a leader amongst other emerging young leaders. Quoted from one participant "I'm finding my purpose and my purpose is finding me".
Our young Pasifika population is the key to our future. At Le Va we want to unleash our Pasifika youth and community's full potential to achieve the best health and wellbeing outcomes. The Le Tautua Leadership programme can help us do this.
In recognition for Samoan language week, "Fa'aauau le folauga I le va'a o tautai" -Continue to voyage with competent wayfinders of the ocean, the challenge that was laid down to our Pasifika leaders was to be the wayfinders but don't just be competent, be exceptional. Saili le Malo!
#youthleadership #leadership #letautua2022 #leva #Leadingintimesofsignificantchange