Kinaa (Recognise), Kibaria (Succour), Totokoia (Prevent)
The Ribanaia Women's Group is a Wellington-based Kiribati women's club that meet regularly and acknowledge the importance of their role as mothers and grandmothers who are instrumental in keeping their Kiribati language and heritage alive for their families and Kiribati communities.
Ribanaia Women's Club were a successful recipient of the 2021 Le Va Pasifika Suicide Prevention Fund to provide a mental health and wellbeing programme for the Kiribati community in the Wellington and Horowhenua areas.
Le Va had the opportunity to connect with Teramira Schutz (Training Coordinator) who shared her explanation of the Kiribati mental health and wellbeing programme, and its impacts in the community. The following account is written by Teramira.
It all started when twe saw the Le Va Pasifika Suicide Prevention Fund advertisement and knew there was nothing out there for the Kiribati community. From our observations, people just swallow it (their struggles), it isn't something we talk about in our culture. We wanted to increase awareness in our wider community to help prevent suicide.
Our women's group is made up of women from different backgrounds including those within in the physical and mental health spaces. We met and over time, we developed a comprehensive awareness programme that covers a range of different topics tailored to our Kiribati community. Topics include safe communication and behaviour, parenting styles, parent roles, the impact of drugs, alcohol and gambling, puberty, signs of mental distress, caring for our elderly and the impacts of high blood pressure and sugar levels.
Under the Fund our target audience was Kiribati people within the Wellington and Horowhenua areas, aged from 15 years and over. We linked in with the Wellington Kiribati community group as well as local churches and attendance of our workshops have been a great success! We have run four workshops with just over 100 attendees. Following the first two workshops, we have had requests from family and friends outside our intended areas flooding in. Due to the impacts of COVID-19 we were able to run our workshops over zoom making it more accessible for our Kiribati communities across New Zealand to attend.
The community testified that "we are great role models and have delivered culturally tailored topics to foster positive mental health and wellbeing for the Kiribati communities in New Zealand. The topic is very sensitive however the women have simplified it to suit the Kiribati culture."
The demand is growing for the workshops as like the collective connection of our Kiribati community.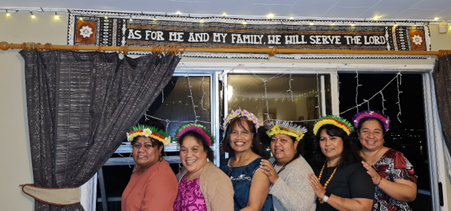 Photo: RIBANAIA WOMENS CLUB FACILITATORS – Top row from Left to Right: Ruta Teburea, Tiantaake Taoaba, Taemaaka Kaitara, Tiiki Kabiriera, Teramira Schutz, Sailosa Kabiriera. Bottom: Julliet Toma, Rereao Tabokai, Denise Ratieta, Maria Tioti