Supporting people with disabilities in your church – posters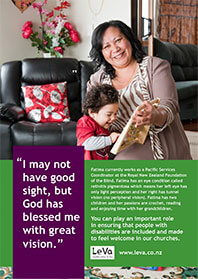 Imagine a world where Pacific people with disabilities have access to all the services they need. Le Va is working on developing such a world, right here in New Zealand.
These posters aim to increase awareness and understanding of disability by telling stories. Members of Pacific churches throughout New Zealand are encouraged to display the posters on notice boards and any other church space.
Each poster features a member of the Faiva Ora National Leadership Group discussing what accessibility in church means to them.
The posters are available in four languages: English, Samoan, Tongan and Cook Island Maori.