Work That Matters – Rewarding Careers in the Disability Sector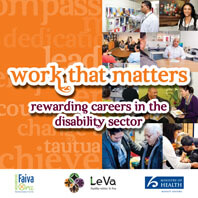 This booklet highlights careers within the disability sector currently held by Pasifika people. It is a careers booklet providing an insight into the daily routine of specific and disability related careers that are rewarding.
This booklet has been developed to demonstrate the variety of career options available in the disability sector and to encourage Pacific people to consider a job in disability as a career option. If you are considering where to start, this resource will show you how others have enjoyed their chosen role in the disability sector – experiencing challenges along the way but reaping rewards in the long run.
Downloads
Work That Matters Rewarding Careers in the Disability Sector
Published 1 September 2010
Download

pdf

(6.46 MB)