Talking Therapies For Pasifika Peoples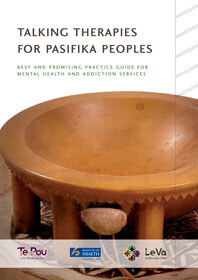 Talking Therapies is a guide document on ways of working with Pasifika individuals and their families. The guide presents processes which may help therapists build rapport and maintain engagement with Pasifika populations.
Pasifika world views and identities are based on a collective approach, with health and wellbeing relying on safe and balanced relationships. Given the holistic nature of these relationships, any disturbance or imbalance may be associated with mental health difficulties. This guide predominately presents ways of working with Pasifika individuals and their families. Consideration should also be given to the complex set of inter-relationships that exist between Pasifika communities and to the important role of spirituality in Pasifika people's lives.
The New Zealand Mental Health Survey – Te Rau Hinengaro, identified that Pasifika peoples carry a higher burden of mental disorder than the general Aotearoa/New Zealand population, but that use of mental health services for Pasifika peoples with a serious mental disorder is only 25 per cent compared to 58 per cent for the total Aotearoa/New Zealand population. A major challenge for Pasifika communities is stigma and the need to demystify mental illness and psychological issues. Talking therapies have strong potential to address these issues, provided the initial engagement process is a positive experience for Pasifika families.
In general this guide is written to provide information for people working in and using mental health and addiction services. It therefore has a clear clinical focus. It may also be useful for nongovernment organisations and other agencies involved with counselling Pasifika families.