Scope it right: Working to top of scope literature review summary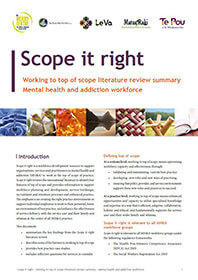 Scope it right is a workforce development resource to support organisations, services and practitioners in mental health and addiction (MH&A) to work at the top of scope of practice.
The literature review summary document:
summarises the key findings from the Scope it right literature review
describes some of the barriers to working to top of scope
provides best practice case studies
includes reflective questions for services to consider.
The full literature review is also available from the Te Pou library. It reviews the literature on working to top of scope, so that any subsequent workforce design is grounded in evidence-based practice.
Downloads
Scope it right: Summary of working to top of scope literature review
Published 18 February 2015
Download

pdf

(1.12 MB)