Popao Model: A Pacific Recovery and Strength Concept in Mental Health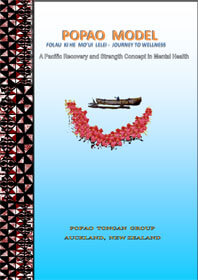 Malologa Trust put in an application in 2008 to Le Va's Fakatu'amelie Innovation Fund to publish the Popao model, which was printed in the Pacific Health Dialog Journal in 2009.
This document has been put together by Taitoko Tafa and Manu Fotu with the mandate and support of the Popao Group.
This document includes specific enhancements to the model and introduces two new models:
The Ma'u Kava Model – this uses the traditional kava protocols as a metaphor for relationship building, connecting and nurturing; and
the Fofola e Fala Kae Fai e Talanga Model – which presents the concepts of "ngafa" or duty and "va" or relationships.
Downloads
Popao Model: A Pacific Recovery and Strength Concept in Mental Health
Published 1 February 2009
Download

pdf

(3.33 MB)