Pacific Mental Health and Addictions – Pacific Health Dialog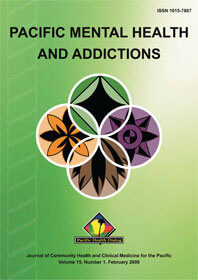 This entire edition of Pacific Health Dialog is dedicated to Pacific mental health and addictions, featuring 20 original discussion, viewpoint and perspective papers from across the Pacific mental health and addictions spectrum.
Le Va's Dr Monique Faleafa, as guest editor with assistance from her project team, edited this edition for the Health Research Council of the Pacific.
Le Va wishes to acknowledge the editor in chief, Professor Sitaleki Finau, for the marvellous opportunity to showcase our sector to the world. We also acknowledge this is only just the beginning of what is a long journey ahead.
Download the journal and papers
You can view and download a PDF file of the entire journal from the right-hand column of this page.
You can also view or download individual papers from the journal from the list below. The papers are in the order that they appear in the journal. All files are low-resolution PDF.
Original papers
Twelve month prevalance, severity and treatment contact of mental disorders in New Zealand born and migrant Pacific participants in Te Rau Hinengaro: The New Zealand Mental Health Survey (PDF, 140KB)
Exploration of Pacific perspectives of Pacific models of mental heath service delivery in New Zealand (PDF, 128KB)
Community rehabilitation outcomes across cultures following traumatic brain injury (PDF, 136KB)
Child discipline and nurturing practices among a cohort of Pacific mothers living in New Zealand (PDF, 136KB)
'From Kava to lager' – alcohol consumption and drinking patterns for older adults of Pacific ethnic groups, and Europeans in the Diabetes, Heart and Health Study (DHAHS) 2002-2003, Auckland (PDF, 120KB)
Two years on: Gambling amongst Pacific mothers living in New Zealand (PDF, 144KB)
Mental health well-being amongst fathers within the Pacific Island Families Study (PDF, 140KB)
Twelve-month prevalences of mental disorders and treatment contact among Cook Islanders resident in New Zealand (PDF, 140KB)
Walking apart but towards the same goal? The view and practices of Tongan traditional healers and western-trained Tongan mental health staff (PDF, 116KB)
The social, cultural and medicinal use of Kava for twelve Tongan born men living in New Zealand (PDF, 112KB)
Tau fifine fiafia: The binge drinking behaviours of nine New Zealand born Niuean women living in Auckland (PDF, 112KB)
Discussion papers
The interface between cultural understandings: Negotiating new spaces for Pacific mental health (PDF, 112KB)
Exploring the 'cultural' in cultural competencies in Pacific mental health (PDF, 124KB)
Development of a mental health and addiction Pacific cultural practice framework for the Auckland region: Promoting expertise that is "visible, valued and understood" (PDF, 112KB)
Development of a child, adolescent and family mental health service for Pacific young people in Aotearoa/New Zealand (PDF, 280KB)
A Samoan perspective on infant mental health (PDF, 104KB)
Te Vaka Atafaga: A Tokelau assessment model for supporting holistic mental health practice with Tokelau people in Aotearoa, New Zealand (PDF, 148KB)
The Papao Model: A Pacific recovery and strength concept in mental health (PDF, 128KB)
Viewpoints and perspectives
Reflections of a practitioner: Purely a journey of the heart (PDF, 124KB)
Organisational news and information
Mental health in the Pacific: The role of the Pacific Island Mental Health Network (PDF, 92KB)