I AM – A Guide for Nurturing Hope, Resilience and Happiness Pasifika Style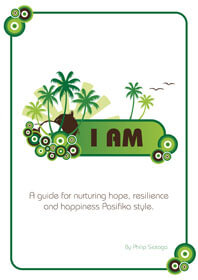 The I AM manual is a course resource for a two-day, 12 module workshop. It provides additional readings for understanding the rationale of the models, and interactive tasks of the I AM course.
This resource was developed and written by Philip Siataga who has extensive experience in social change work, counselling, education and research. This resource was developed through the funding and support of Le Va.
The manual itself has broad scope and potential application, but was designed primarily for youth workers or anyone working with young people. The content and concepts in the manual will be most effective if grounded in the I Am training session and then adapted to suit the target audience. The course is generally designed for two days plus a one-day follow up and involves a lot of group work.
Learning outcomes:
understanding resiliency through narrative and story telling (cultural prosperity)
development of planning and goal setting skills (education-motivation, life balance)
understanding positive psychology through a Pacific lens (engagement and purpose and insight)
personal growth and professional development through reflective practice
maximising group and team development (mana enhancing interaction).
Downloads
I-AM - A Guide for Nuturing Hope Resilience and Happiness Pasifika Style
Published 1 January 2010
Download

pdf

(1.91 MB)