Handover issue 30 – Summer 2015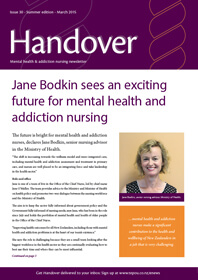 Welcome to the Summer 2015 edition of Handover.
We open with a cluster of views around the future of mental health and addiction nursing, led out by Jane Bodkin, senior advisor, Ministry of Health. We also feature information and updates on Whānau Ora, COPMIA, fetal alcohol spectrum disorder, ADOM implementation, More than numbers and Mix and Match.
We hope this edition inspires you. Work is underway for our next issue which focuses on Māori mental health and addiction nurses. It is being created in collaboration with Te Rau Matatini and Māori caucus members of Te Ao Māramatanga NZCMHNurses.
All Handover stories are now published in our news feed if you do not wish to download the PDF or wish to easily share a story with a colleague.
Kind regards,
Suzette Poole
Editor Handover and Te Pou clinical lead